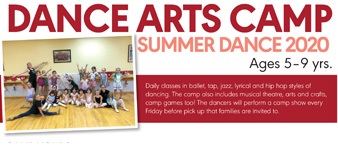 Week 1 – June 29-July 3
Week 2 – July 13-17
Week 3 – July 20-24
Week 4 – July 27-31

Hours: 9:00 a.m. – 4:00 p.m.
Musical theater, choreography, arts and crafts and of course . . . lots of dancing (ballet, tap, jazz, lyrical and hip hop styles). You may sign up for as many weeks as you like. A weekly schedule of activities will be handed out on the first day of camp. The campers will also have two art project classes from a guest artist.
Please Fill Out the Information Below
* Required fields are marked with a red asterisk.