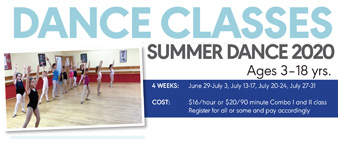 4 Weeks: June 29 – July 31
Ages 3 – 18: Weekly classes available for all ages 3-18 in ballet, tap, jazz and lyrical.  Each class is a structured class designed for the individual student consisting of the basic positions, jumps, turns and connecting steps.
Please Fill Out the Information Below
* Required fields are marked with a red asterisk.