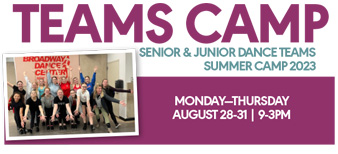 Monday –Thursday | August 29 – 31  |  9 am – 3 pm
THIS IS A MANDATORY FUN KICK-OFF 4 DAY CAMP to begin a new team season. We will take classes in ballet, tap, jazz and lyrical dance. During this time we will also discuss our team goals, spend time choreographing and working on specific techniques.
Please Fill Out the Information Below
* Required fields are marked with a red asterisk.