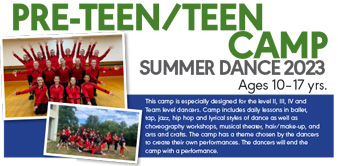 Hours: 9:00 a.m.–4:00 p.m.
Ages 10 – 17: This camp is especially designed for the level II, III, IV and Team level dancers. Camp includes daily lessons in ballet, tap, jazz, hip hop and lyrical styles of dance as well as choreography workshops, musical theater, hair/make-up, and arts and crafts. The camp has a theme chosen by the dancers to create their own performances. The dancers will end the camp with a performance.
Please Fill Out the Information Below
* Required fields are marked with a red asterisk.